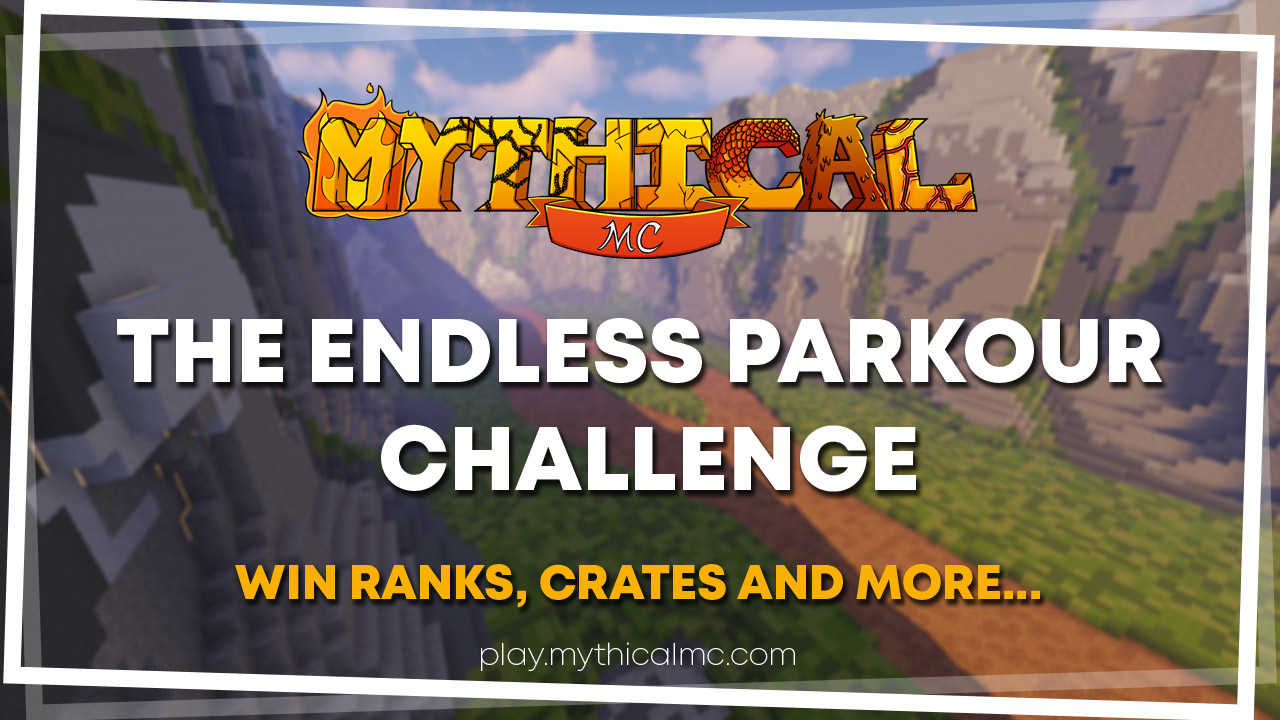 To celebrate the recent launch of
Endless Parkour
, we are throwing down some challenges to ALL Parkour players and offering some amazing rewards for those with the skills to rise to them!
The Challenges
If you can reach the targets below in
ONE solo game
you can win these fantastic prizes:
100 Jumps: 1 Legendary Crate
200 Jumps: 2 Dragon Crates
500 Jumps: An Elite Rank for 1 month
Any player that reaches
10,000 total lifetime jumps
can claim a
pack of 5 Mystery Crates
!
If you succeed in any of these challenges, take a
screenshot
of your stats and either send it to the
parkour-times
channel in
Discord
or
reply to this thread
and your rewards will be sent to you as soon as we can!
https://myth.cl/discord
Community Goals
We love our community and we also want to give you the chance to work towards some common goals! If these targets are reached, then we will unlock some amazing giveaways that everyone will be able to join!
These goals are made up of the total of all players Lifetime Jumps
100,000 Total Lifetime Jumps -
20 Mystery Crates + 10 Keys Giveaway
200,000 Total Lifetime Jumps -
One 3x Multiplier (Game of your choice), 20 Mystery Crates + 5 Legendary Crates Giveaway
500,000 Total Lifetime Jumps -
Three 3x Multiplier (1 for each game), 20 Mystery Crates + 5 Dragon Crates Giveaway
1 Million Total Lifetime Jumps -
Prime+ Giveaway
You have until
Midnight GMT
on the
30th of November
so get jumping!
Good luck and have fun!